What do pizza boxes, a canceled wedding, and a community hand raising have in common? This backyard pavilion in Oregon. For homeowners Matt & Laura, 2020 was rough. Both work in the front-line medical industry and their dream wedding was looking less and less likely to ever happen.
The couple decided that they would turn tradition around, forgoing a traditional one-time wedding ceremony and instead spending what would have been their wedding fund on an outdoor timber frame pavilion they could enjoy with their friends and family for many years to come.
At first, they used empty pizza boxes laid out on the ground to envision their ideas for the space, eventually deciding on a layout for their timber pavilion that included an outdoor pizza oven and Argentine grill, among other amenities. When it came time to hand raise the timber frame, they emailed 30 or so friends and neighbors who all came out to help. The result is a dynamic communal space right in their own backyard.
New Energy Works provided the Douglas fir timbers and trusses. Pioneer Millworks provided the wall panels.
designer/architect/builder:
New Energy Works
location:
Oregon
size: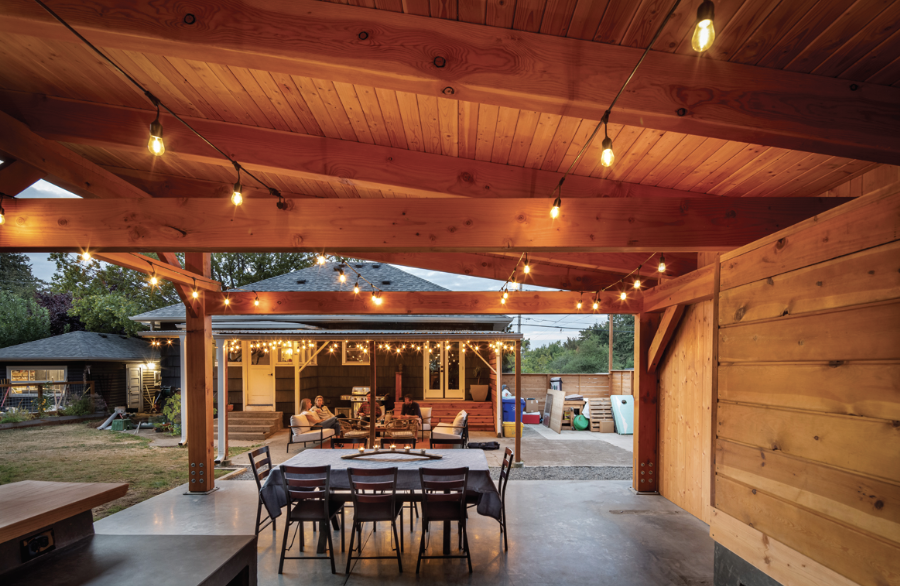 20′ x 32′
Posts:
New Energy Works Douglas fir timbers
Trusses:
New Energy Works Douglas fir
siding:
Pioneer Millworks Larch Shou Sugi Ban Deep Char