Walters Buildings built this stunning 36′ x 48′ garage with living quarters upstairs in Princeton, Indiana. The company partnered with the customer to design and construct this incredible post-frame building that combines a spacious garage with comfortable living quarters, perfect for guests, a home office, or a cozy retreat.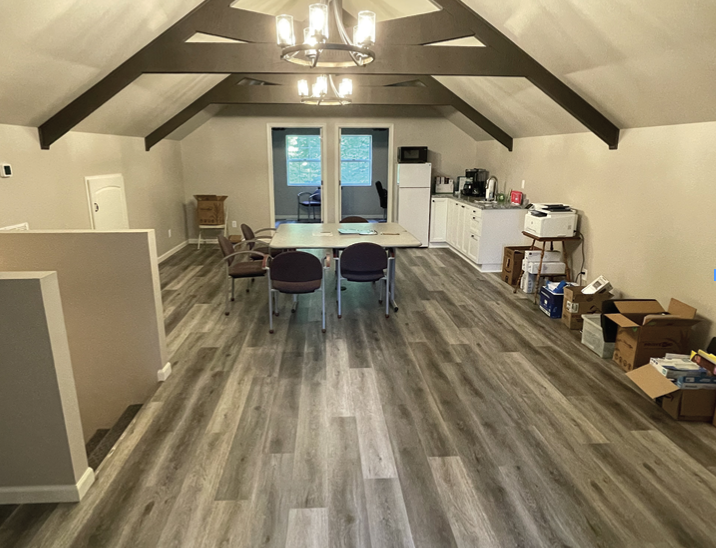 The project features a 16′ x 8′ gabled dutch porch entrance, an 8/12 roof pitch, and Walters Buildings' JWS charcoal steel panels. The first floor interior features an overhead door on the side wall and end wall for plenty of access into the garage as well as a bathroom with shower.
Walters Buildings manufactured the attic trusses and installed the floor system for the upstairs attic and the customer finished the living quarters to include an office and kitchenette area. The end result showcases the seamless integration of a spacious garage and inviting living quarters.
location:
Princeton, Indiana
size:
36′ x 48′ x 12.4″, roof pitch 8/12
overhead doors: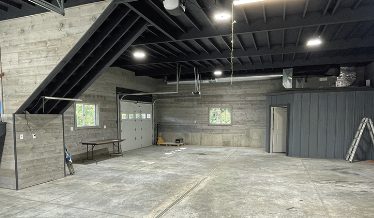 C.H.I. Overhead Doors, Model 2283 Stockton Design
Posts:

Walters Buildings 5×6 STP Columns
trusses:
Walters Buildings 35′ 9″ 8/12 Truss
wall panels:
Walters Buildings JWS 28g / G90
windows:
Plyco 3040 Vertical Slide, white with grids