By Karen Knapstein
Two years ago, builder Dennis Lee, pulled up his tent stakes in Kentucky and moved to Florida. He may be familiar to some of you: He was the recipient of the first "World's Best Crew Foreman Award" back in 1984, which was bestowed by this magazine when it went by the name of Farm Building News. 
You might say building is in his blood; he worked with his father, National Frame Builder's Hall of Fame inductee Robert E. Lee, for close to 20 years before starting his own business. Dennis said, "I've grown up in the post-frame industry; as a good friend once commented, I was 'Born to Barn!'"
Dennis now sells steel-skinned SIP panels for Structall Building Systems and he recently finished his own "ultimate man cave," where he restores antique motorcycles and pickup trucks. Of the building, he enthuses, "After 40 years of building these for other people, I finally got to do one for myself."
And it was almost "by himself," too. "I actually framed the entire frame and installed all of the sidewall and roof panels entirely by myself. I had a small scissor lift and screwed an electric winch to the ridge beams to winch the roof panels up."
The building measures 30 feet by 48 feet and has 12-foot side walls with an 8-foot side porch. The roof has a 6:12 pitch and two functioning dormers, along with a 4-gabled cupola.
He started with a laminated post-frame/timber-frame "skeleton" wrapped with Structall's steel-skinned SIPs panels. The Structall SIP panels are made with 26ga steel skins rather than OSB, and they are finished with AkzoNobel's Ceram-A-Star coating, insuring their longevity. The Snap-N-Lock design means the panels snap together, eliminating any need for spline material at the panel joints. He used a "peel and stick" underlayment from Tamko under the roofing to act as a gasket between the two metal surfaces.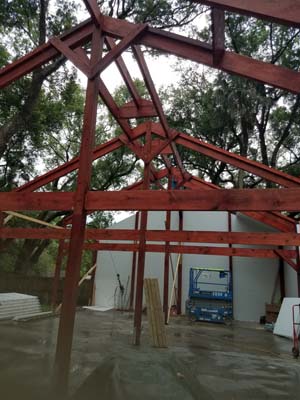 "It is engineered to withstand 150 MPH winds," he says. "The biggest advantage is that the SIPs act as the purlins/girts, insulation, sheeting, and interior finish all in one step. With the SIPs envelope, the building is like a walk-in cooler. I put a small window AC unit in one of the upper windows just as a test. It cooled the entire building down to 76 degrees when it was 95 degrees outside."
As the pictures show, with the timber frame skeleton, the building is ready for a second floor; Dennis says he plans to add one in the near future. RB
THE details:
Building: Dixie Building Systems
Building Size: 30' wide by 48' long; 8' side porch; 12' side walls
Features: Anderson Silverline Windows; Structall Building Systems SIPs; CannonBall walk doors; Clopay garage doors (Dennis Lee applied crossbucks with custom bent trim by Central States); Tamko underlayment; Central States Galvalume siding and roofing/wainscot (Metallic Copper, Kynar paint). Floor: Eagle acid-etch stain in Bronze, topped with two coats of Eagle high-gloss clear sealer and six coats of Eagle floor wax. Key Supplier: Paul Travis, Travis Metals, Almo, Kentucky.