Hello,
This is a letter to the editor of Rural Builder.
I read the story in the March 2021 issue about work boots (A Good Pair of Work Boots). It was a good story. I was just wanting to know where a person can get a pair of work boots re-soled? I am a contractor myself and I have some work boots I would like to re-sole.
Thanks,
James Stutzman
Seymour, Iowa
Thank you so much for the letter! I wasn't sure of the answer to this question, so I found a shoe repairman in Iowa who was happy to talk about what you can do to preserve and repair a good pair of work boots. His name is Jason "Doc" Rogers and he owns Doc's Repairs in Marion, Iowa.
In the course of our conversation, Doc shared with me his career as Navy Corpsman serving as a medic for 3rd Marines, hopping around from civilian job to civilian job, and finally leaving his first white-collar job to take over a friend's shoe repair business. He learned his skills from two "old-timers" who were eager to pass on their knowledge to the next generation. The cobblers had each taken on apprentices in the past with hopes of passing the trade down, but once they found out it was hard work they left. Rogers, who was always good with his hands and knew how to fix simple machines, relishes the hard work. "We are swamped," says Rogers. "I work more than I ever used to, but I'm happier."
Rogers told me he likes that he can recycle and create less waste by repairing things that would otherwise be thrown away. "It's kind of a lost art. People don't realize that shoe repair is around anymore." And he's right. The Shoe Service Institute of America reports that shoe repair shops have dwindled from 100,000 in the 1930s to 15,000 in 1997 to about 5,000 today. Rogers now keeps in touch with his fellow cobblers through communities online. "In a lot of businesses there is competition, but in shoe repair everyone is ready to share all of their knowledge to keep the industry alive," says Rogers.
So without further ado, here is a handy list of tips and tricks for caring for and repairing your work boots.
When should my boots be repaired?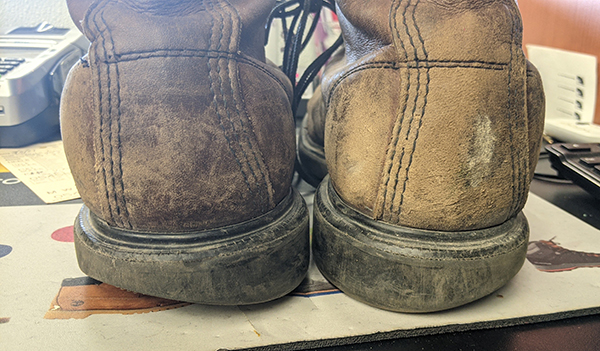 • Any time the heel is badly worn: Typically, the outside corner of the heel will wear down first. Luckily, the heel can usually be replaced to avoid complete re-soling.
• When the sole is separating from the boot: If the sole of the boot is peeling back or the stitches on the upper portion of the boot begin to come undone, it's time to bring them in for repair. And the sooner the better: fixing a couple of stitches is much easier than repairing the whole side of a boot that has blown out.
• When the steel toe is visible through the toe leather: Many times, this is an area that can be repaired with an epoxy. A shoe repairman will make sure the steel cap is intact and then cover the worn spot with Tuff Toe, or a similar product.
• If there is a tear in the waterproofing lining: Many boots are not built to be waterproof from the outside, so if you get a tear in the liner and your foot is getting wet, have the outside waterproofed.
• When you wear through the tread on a boot: The boot will need to be completely re-soled.
When should I replace my boots?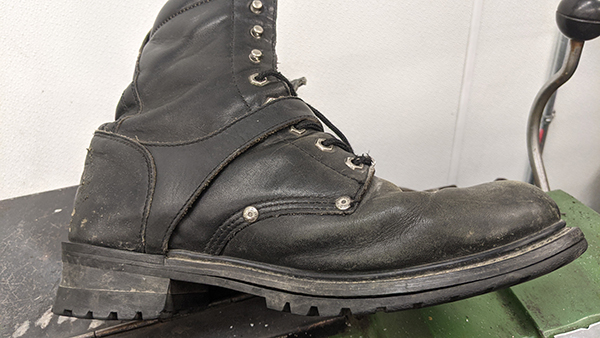 • When the "upper" part of the boot is badly damaged: The "upper" of the boot is the material that forms the visible part of the boot above the sole. Most things that attach to the upper can be replaced easily, but the outer material and the inner foam or padded lining become cost prohibitive to repair.
• If they are made from lower-quality materials: Some boots you buy just may not be worth it to repair. Many of the inexpensive boots on the market are made from nylon or other synthetic materials that are less suitable for repair.
How can I prolong the life of my work boots?
• Use a cream or polish to moisturize the leather and keep it from breaking down. You can do this as often as every month or as infrequently as every six months.
• Keep your boots clean. Wash them with a light detergent and a nylon brush before moisturizing, conditioning, or waterproofing to keep them in good condition.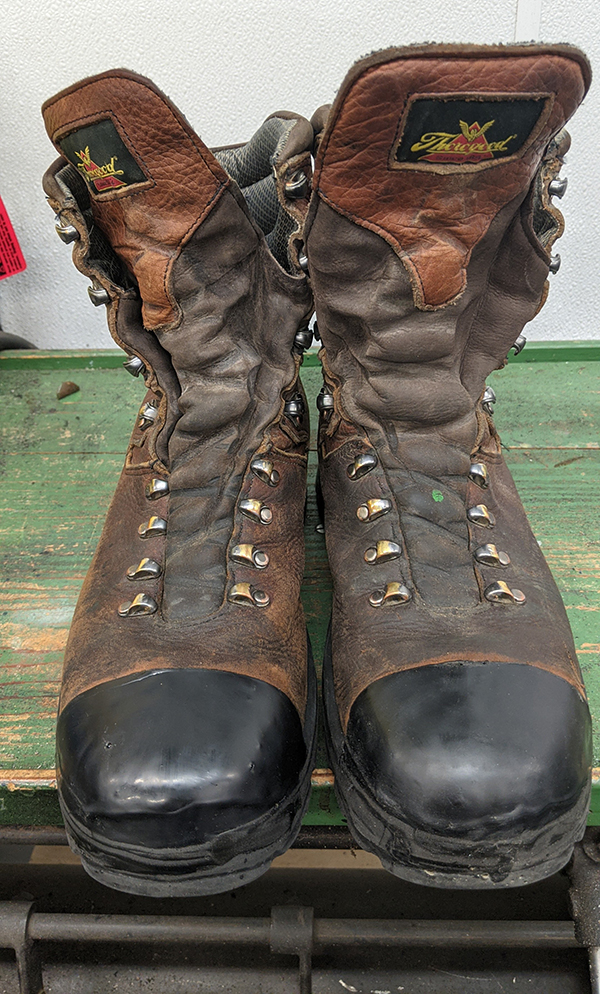 • Keep up on maintenance. Fix small damage like broken eyelets, speed hooks, snaps, or stitching right away so your boots don't deteriorate beyond repair.
• Have your boots re-soled. Most of the time, for the customers who are really rough on their boots, a boot can be re-soled two or three times in its lifetime.
• Adjust your boots so they work for you. If you like your boots, but the soles are too slick or pick up too much mud, have them re-soled with something that works better. If you are constantly taking your boots off and on, have the eyelets replaced with speed hooks. Sometimes it's just about making it a better shoe for you.
• When in doubt, find a local shoe repairman and ask them how to keep your boots in good order.
Words of wisdom directly from a cobbler
• The more comfortable a boot is the day you try it on, the less it's going to last. The spongy material breaks down quickly and isn't repairable. That doesn't mean get the most uncomfortable boot, but understand there will be a breaking-in period.
• Contractors and builders do custom repair jobs all the time. They make changes to things that already exist. Think the same way about your gear. When you've taken the time to break in a comfortable pair of work boots, see what you can do to keep them around a little longer.
• If your feet don't hurt at the end of the day, that's a pair of boots worth resoling.
• Usually, it takes three to six months to break in a work boot. The shape of the boot will change and mold as you work in them. If you wear a damp boot until it's dry, it will mold to your foot and fit you better.