By Linda Schmid
The past year has been by anybody's reckoning…different. We all know that business has had its share of challenges including trying to recover from shut-downs, deal with supply chain issues, a limited pool of available employees, and more. So what is going on at the outset of the new year…and where is it headed?
Let's see what industry professionals think. (Please note that the opinions expressed are those of the companies and people cited; they are not necessarily the views of Rural Builder or SWM.)
McElroy Metal
Labor challenges are a common theme from builders around the country. Labor has been a challenge for several years now, and unfortunately builders will probably be challenged again in 2022. Fortunately, it appears that colleges and associations, such as the NFBA, are encouraging the construction trades as career choices and developing curriculums and tools to help train and educate.
Ken Gieseke, Vice President of Marketing at McElroy Metal, stated that they continue to see growth in the residential metal roofing segment. "Homeowners are becoming more educated about the benefits of metal roofing and have grown tired of regular replacement of conventional shingles. Metal roofing market share has grown the past several years, so more and more homeowners are being exposed to metal roofing, getting educated about metal roofing, and then installing metal roofing on their own homes." 
This positive state of affairs gives Gieseke hope for the coming year. "We remain optimistic and believe the construction market will have another solid year in 2022," he said.
MFM Building Products Corp.
Price increases for raw materials have definitely affected customers, according to David Delcoma, Product Marketing Manager at MFM. The company is not known for issuing price increases throughout the year, but 2020 and 2021 were a different story. "Every raw material we purchased has been subject to multiple price increases. Everything from the key ingredients in our mastic down to the packaging supplies have seen increases."
MFM is betting on the construction industry going strong in the coming year. Delcoma said, "MFM foresees another strong year in the construction industry, both residential and commercial. The slow down may occur in 2023." Of course, unforseen outside forces can affect the industry. Delcoma put it this way: "For most manufacturers of building materials, natural disasters like hail, tornadoes, flooding, and hurricanes can drive product demand. Of course, these cannot be anticipated, but can have a major impact on the construction industry."
Throughout 2021 and 2022, product availability for builders and the corresponding increase of those items were a major hindrance to the construction industry. Delcoma continued, "At MFM, we understand the value of being able to deliver the product at a competitive price. We anticipate that builders will still be subject to longer lead times in 2022. However, MFM has placed a major focus on having inventory in stock for 2022. Builders need to anticipate these delays and work closely with their distributors to ensure that product is available when needed."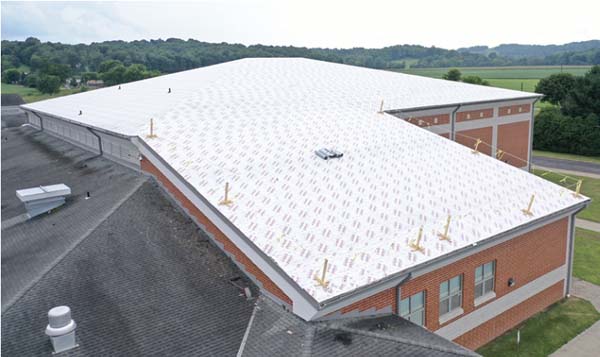 Delcoma had further advice for builders: "Focus on product quality, availability, and cost. We've seen many projects waiting for months on one or two products that were delayed. A local house sat for over 12 weeks waiting on the windows and doors to arrive. Nothing else could move forward until these items arrived. A builder needs to be conscious of these unknown factors."
Changing prices may cause difficulties for builders in the next year. "Some raw material pricing has leveled off during 2021 Q4," Delcoma said, "whereas others seem to be just beginning. What is unfortunate is that many raw material suppliers will pass on an increase with very little warning, which hurts the manufacturer, distributor, contractor, and ultimately, the consumer. Our suggestion is to assume that pricing will continue to increase and operate under that premise. Some customers have increased their orders to ensure product availability."
Overall, MFM appears poised for good things to happen in the industry. "MFM underwent a 2021 Expansion Project to significantly increase our manufacturing capabilities for 2022. This in-excess of $10 million dollar project includes a new warehouse facility, production equipment, support equipment, a new fulfillment center, and state-of-the-art Research and Development Laboratory."
Besides facility expansion, MFM has other big plans in store. "MFM plans on introducing several new products in 2022 through our new Research & Development Laboratory. We are not at liberty to say what these products will be at this point," Delcoma said, "but suffice to say that it will give our customers a wider selection of product offerings. MFM is unique in that we supply a complete envelope of waterproofing products from the rooftop to the foundation. These new product introductions will complement our existing product offerings."
Levi's Building Components
Levi's is optimistic about the state of the industry. "We believe 2022 will continue to have strong demand for our industry.  The popularity of metal roofing will drive new growth and we look for construction to remain up," said Mike O'Hara, National Sales Manager. 
At the same time, O'Hara acknowledges that there have been some negatives in the industry of late. Material pricing changes caused more administrative work for all. "Price changes trickle down from manufacturers to contractors at different rates," he said, adding that he hopes these changes like freight, pricing, and other factors will settle down in 2022, but it could take another year.
Of their own reaction to these changes, O'Hara said, "Levi's has hired more reps, and we are always working to be a best in class supplier for the industry. We see good growth continuing in the Metal Roofing Industry," said O'Hara. "We are always improving our Levi's experience for customers and our employees. Being thoughtful and acting quickly are hallmarks here at Levi's."
"We have a strong pipeline of new products that will help customers solve problems." O'Hara said that Shield Wall Media (publishers of Rural Builder magazine) will be promoting these new products when the time is right.
O'Hara believes the biggest challenges that builders will face in 2022 are being able to estimate jobs and work through the backlog with everchanging pricing and product availability. Overcommunicating with customers about realistic timelines will continue to be very important. Positivity, internally and externally, while thoughtfully planning their crew's time is key.
Another concern regarding prices that O'Hara sees is that some builders are not passing any of the cost increases on to customers. "Their backlog may be three to four months out, but they have already quoted pricing. This could lead to trouble down the line when the company is not profitable."
Chief Buildings
Construction will not be down. It will either maintain the current level or be up overall, according to Brian Shelten, Marketing Manager at Chief Buildings. "As a building supplier, we have seen no appreciable change to the steady need for more infrastructure in the US. COGS is up and the price we sell at is up, and that is the same for everyone in the industry. The volume of actual product is up some, but not at the same magnitude as the rise in dollars," he said. 
With the passing of the recent infrastructure bill, Shelton maintains that the expected government spending may reallocate the already limited resources from one sector to another, so it will be difficult to forecast any "growth" stemming directly from that. Plus, we may not see any of those dollars in 2022 since it will just be too early for those government spending programs to hit the ground.
That said, commercial warehousing and industrial facilities are possibly the brightest stars. Shelten said, "There is a greater need than ever to re-shore product manufacturing and warehousing to the US market. Expect that market sector to keep pace or increase."
Shelten doesn't expect the labor shortage and supply chain issues to disappear anytime soon. "With a long-standing cultural shift from promoting careers in the trades to focusing more on white collar or "service" or "social" centered careers, there is no quick fix to the shortage of tradesmen in the US," he said. "It took decades to get us where we are now. The younger generations, and particularly the demographic that might entertain the trades, are more prone to work multiple 'side gigs' than to commit to a singular career-type of work situation that would mean learning and mastering a skillset."
Shelten also warns that waiting 6, 9, or 12 months to start a building project in 2022 will almost certainly guarantee higher prices and longer lead times. If you can wait years, at least 2-3 years, then the story could be different.
His advice for end users: "Lock in quoted rates as soon as you can. Make sure there are provisions in your contracts to protect you against unforeseen circumstances that will affect your contracted dollars. Since the contractors are trying to protect themselves as well, this will remain a very touchy and sore point for all parties involved. Remaining flexible may be the best way to mitigate the damages from those unavoidable hiccups that are inherent to construction; accepting schedule changes, allowing substitutions, and maintaining amenable relationships with the contractors will help when others will hold fast to drawing lines in the sand. You might find that an even better product can be had in the timeframe you need it if you keep the communication lines open and are willing to negotiate. Accepting a delivery months before you need the product is never the best plan, but it could mean saving the whole project if you can take it and store it securely."
As for the future of their own business, Chief Buildings may be resurrecting some retired products due to current and expected future supply chain issues. That remains to be seen. Beyond that, they see good things coming. "Chief Buildings has opted to reinvest in the company for 2022. There will be some exciting news coming very quickly in the new year," Shelten said.
S-5!
For some in our industry, with the onset of COVID-19, it appeared as though the greatest economic boom period in history was coming to an abrupt standstill. At S-5! we quickly shifted in the wake of the pandemic. We put our heads together, mobilized, got creative and activated a plan to not only keep our business afloat, but to thrive and be well-positioned for the future. And by year end, we saw strong double-digit growth.
Most folks in the industry agree there will be a construction slowdown in 2022 as compared to 2021. We aren't experiencing those indicators but we hope things return to a manageable level, so we can catch up. We expect strong double-digit growth again.
Turning Problems into opportunities in 2021
Instead of looking for problems in the midst of the pandemic, we looked for opportunity. That opportunity was (and still is) out there–to respond to the near term, manage differently and plan for the longer term. Just shift thinking, re-direct resources, re-invest and prepare for the (new and increased) demand.
Within the health crisis, we got creative with our sales process and came up with new ways to stay in front of customers, educate and train them. We used the time to survey our customers and gather some insightful feedback. We expanded our marketing efforts, improved our processes and invented new things.
At the onset of this pandemic, we learned what to do and not to do; we gained knowledge and understanding of how to plan better for the future. Most importantly, we prepared for the pent-up demand we had predicted.
Construction Up or Down in 2022?
The increase or decrease in the rate of construction has much to do with the fiscal policies of the Fed, the government in general and what happens with the Build Back Better Act by the time it works its way through the U.S. Senate. These are all external forces beyond our control.
Our economy is in a very volatile state because the Fed and administration are being irresponsible with the supply of money. The Fed sets interest rates to control inflation. But not now. Inflation is rampant and the Fed keeps suppressing interest rates. So, a lot depends on public policy regarding money supply.
The other issue is the dollar losing value (you only need to go to the supermarket for proof), but other currencies are losing value as fast or faster. It doesn't seem to be slowing things down as consumer credit is expanding (and spending along with it). There was such a pent-up demand from 2020 when it was hard to get anything built so businesses and families are doing what they have to do—buying what they need regardless of cost.
Supply Availability and Costs Going Forward
At S-5!, we have seen cost escalation and constrained availability like we have never seen in five decades, mostly due to the fallout from the pandemic. Companies had shut down production and inventories became decimated. Extreme weather events in 2021 also did not help. The response from buyers was some degree of over-reaction. Spontaneous reactions propelled by fear and fueled by federal debt burdens and cheap credit alter rational logic.
Throughout the course of the pandemic, steel production companies had major shutdowns. That's raw material at its source. Other mills beyond steel, like aluminum, stainless, lumber and consumer goods had shutdowns as well (both domestic and foreign). The result is an increase in demand along with a decrease in supply. Because of this, "too much money was chasing too few goods" (Warren Buffet's definition of inflation). Costs should begin to decrease by Q2, 3 and 4 2022 as raw material producers get geared up and freight channels loosen.
With the deceleration of construction on the heels of projects previously on hold and now being completed, several factors will work together to levelize costs and bring them down a bit. As far as supply availability, from a company perspective, we haven't waited to find alternative sources. We have those sources on board now and are still able to maintain our long-standing relationships with key suppliers and customers. They understand our situation. They are in the same boat trying to meet the demand. One of our key suppliers for raw material (we are one of their largest customers) recently said to us, "help us out and find a secondary supplier because we just can't meet your demand."
The Labor Shortage
The labor shortage should improve in mid-2022 since the generous benefits provided by the federal government have ended. S-5! has experienced the labor shortage firsthand at our manufacturing plant with competition from government-subsidized income paying so many to stay at home. As a result, companies like ours have had to shift and invest more in their people—providing growth opportunities, leadership training and job security. These are not bad things.
That said, the hesitancy and low rates of vaccination among construction workers (compared to other occupations) are likely to present some ongoing issues with labor shortages. We are not reducing our labor force but are further automating processes to reduce dependence on direct labor while re-assigning the labor that we have to increase production overall. In so doing, we are increasing efficiencies. Again, not bad things.
With a strong balance sheet and income statements, we have stayed out of debt. And with some of the changes that the health crises precipitated, we will come through these times a better, more efficient company. Many others will as well.
In Conclusion
Suppliers and our survey respondents have indicated that the biggest issues people are anticipating in 2022 are product availability and pricing. Their secondary concern seems to be the labor shortage, particularly with the lack of experience and work ethics along with overall limited applicants. People are also concerned with the federal response to changes in the economy.
The good news is that in spite of the problems, people seem optimistic about the construction industry in general, particularly in regard to residential and commercial projects. The outlook for agricultural building seems to be that it may remain the same or decrease a little.
Many companies are ramping up for a lot of work, investing in tools and vehicles, and suppliers are expanding production.However, if you find your company is held back by a lack of product availability, maybe you need a Plan B. See page 63.